Spring is here and we couldn't be more excited! Flowering bulbs are starting to poke through the warming ground, trees are budded up, and Azaleas are soon to pop!
Now is the perfect time to get plants in the ground in time to enjoy early spring blooms, and be well established before summer heat.
Living privacy screens are so much lovelier than a fence! And less expensive usually. I bet you can find somewhere in your yard that could use a bit of screening, right??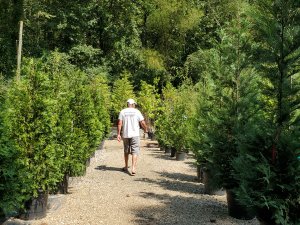 Living privacy screens can consist of a variety of plants these days, which create an interesting dynamic look in your space. 
Again, now is the best time to plant, especially when we're talking larger trees, which we use to create these live screens. Having these trees in the ground before the summer heat greets us is the sure way to not worry about keeping them alive early on. Of course, we have smaller sizes available to get you started with a smaller price point as well. 
Items to note:
Area in full sun or shade?

Prefer an evergreen variety?

How fast do you want to grow?
Some varieties can grow to over 50 feet so be aware of your space and what you really need. Plenty from which to choose. We can help you figure all that out friends!