It's here…2021. Not real sure what this new year holds for us all, but one thing we believe you can control in this world, is your yard!
What are your landscaping goals this year? It's time to make plans…now is truly a perfect time to plant too! Many plants such as trees and shrubs are ready to get in the ground and they will be ready to burst when growing season hits. The hard work will be done and you can then focus on the fun annuals and perennials you wish to add to your space when spring comes.
For instance, this is a beautiful job that was planted a few weeks ago that will be ready to go come spring…all that's left to do is mulch or lay down pine straw after winter, and watch the growth spring forth!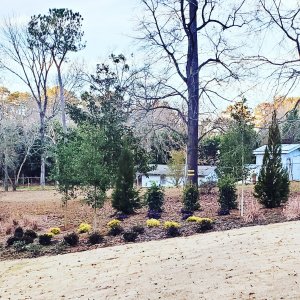 While you are planning bed changes, tree additions, or bigger design work, look out for those trouble items you may have noticed over the past year such as drainage or trees that may need to come out. We have trusted partners we can refer for professional jobs if you need them!
Go ahead and start pruning trees such as crepe myrtles and maples and non-flowering shrubs too. Give us a call for specific pruning questions.
If you're serious about making some substantial changes or additions to your yard, we can best help if you take photos of the area(s), print out and add the measurements of the space.* We suggest you come in with design plans before spring as we get slammed and do not have much time to spend designing on the spot.
Please follow us on Facebook and Instagram to look out for news and specials throughout the year.
Let us help you make the most of your time and money this year!