by Kyle Burgamy, Landscape Architect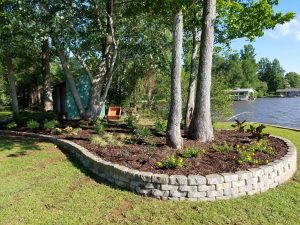 Many homeowners want a beautiful yard, but they are unsure of where to start.  Come and speak with the plant experts at T-Bone's Nursery to get helpful advice on what to plant in your garden.
For on-site landscape consulting, design, estimates, and project installation, be sure to contact Kyle Burgamy, Landscape Architect.  After working as a full-time landscape designer for T-Bone's Nursery for several years, Kyle has recently assumed ownership of the nursery's design and installation business, and will soon be re-branding with a new company name and image.
Kyle and his team will continue to serve past and present customers of T-Bone's Nursery with all of their landscape design and garden maintenance needs.  Contact Kyle directly HERE, or by submitting a request for design on your next visit to T-Bone's Nursery.
Custom Landscape Plans – Design and Installation
Custom Landscape Plans include:
*  On-site walkthrough and consultation,
*  Site plan showing the proposed design,
*  Plant list with all proposed species, and
*  Complete project management and oversight of installation.
To get things underway, we encourage you to browse the plant inventory in the nursery so that we can have an idea of what you like (optional).  Kyle will then schedule a visit to your home to become familiar with your property, taking photos and measurements.  Custom Landscape Plans typically require a minimum of 1 week to complete.  When your design is ready, Kyle will contact you so that you can visit the nursery to review the plan and see the proposed plants in person.  All plans are drawn to a standard scale on letter-size paper and are easily readable.
Check out our FACEBOOK page for photos of past landscape projects!!!
Landscape Maintenance
Kyle and his team now offer custom landscape maintenance including specialty pruning, mulching and pinestraw, general clean-ups, seasonal color beds, fertilizing, and more.  Call HERE today for all your landscape needs!
Competent Project Management
Landscape Architect Kyle Burgamy has designed hundreds of landscapes in the middle Georgia area.  Most landscape plans require adjustments after the initial design phase, and having a knowledgeable installation crew with a vision of the design intent will prove invaluable during the implementation of your project. For plans designed by Kyle, he will be on-site to lay out the plants and to ensure that you are 100% pleased with the results.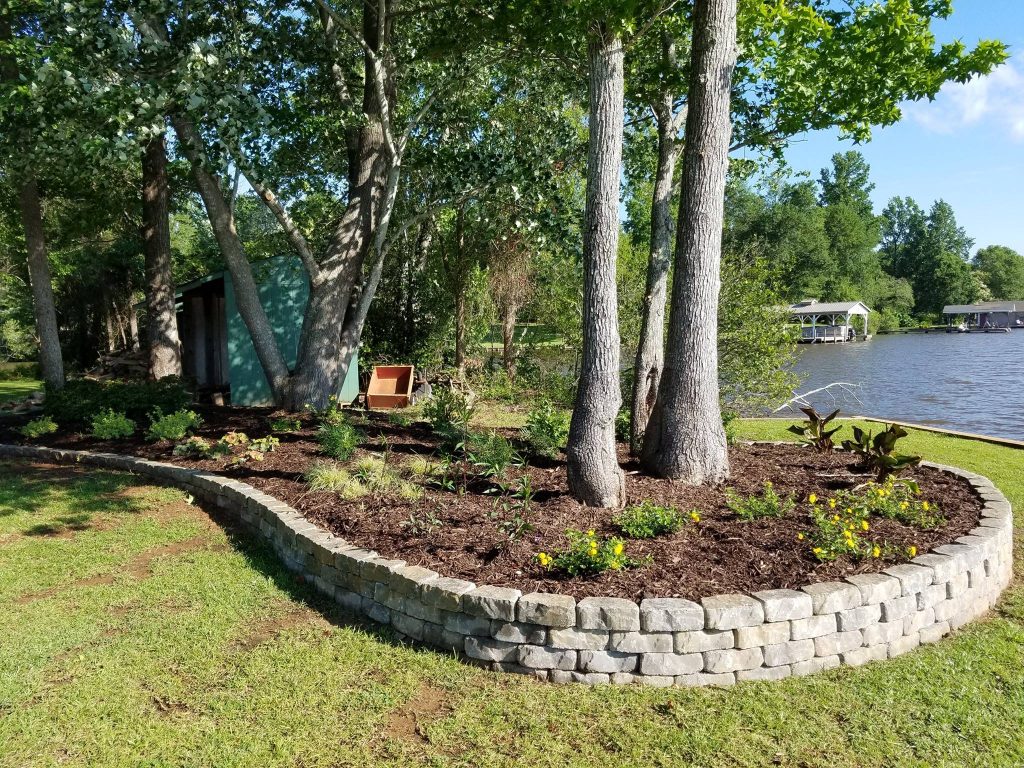 Kyle and his team offer pavers, sidewalks, outdoor kitchens, and retaining wall installation services!  Contact Kyle below for all of your Hardscape needs!
"My experience with Kyle was great.  He really pays attention and asks tons of questions.  He took an enormous number of pictures.  …His dimensions were on the money.  It really has turned out nicely!"  –Ron B., Milledgeville
"After a location change and pool installation, we were stumped as to landscaping design and plantings. Plants we were unfamiliar with, different soil types, drastic changes in growing seasons, combined with drainage issues could have spelled disaster for DYI'ers. A quick net search landed us at T-Bones in Milledgeville. We started planning with Kyle and decided to have T-Bones do the complete landscaping planning and installation.

Kyle designed and implemented a plan that fit our 115 year-old home, incorporated our lifelong interest in birdwatching, and enhanced our natural environment. He thought of things we never considered and in a few short days, the plan came to life.
Throughout the summer, we've been treated to blooms, fragrances and a multitude of birds and butterflies.

We highly recommend Kyle, his team and T-Bones who need a few plants–or a total landscaping makeover. Thanks again for all the hard work and job well done! " -Mary Holtschlag
We look forward to working with you!  Please fill out the form below and Kyle will contact you soon.