by Kyle Burgamy, Landscape Architect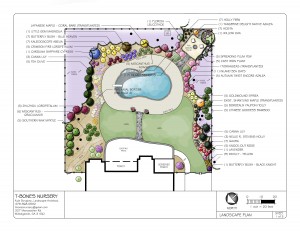 Custom Landscape Plans – Design and Installation
After meeting with you on-site, Kyle will offer a free quote on design services.  Our Custom Landscape Plans include:
*  On-site walkthrough and consultation,
*  Site plan showing the proposed design,
*  Plant list with all proposed species, and
*  Complete project management and oversight of installation.
To get things underway, we encourage you to browse the plant inventory in the nursery so that we can have an idea of what you like (optional).  We will then schedule a visit to your home to become familiar with your property, taking photos and measurements.  Custom Landscape Plans typically require a minimum of 1 week to complete.  When your design is ready, we will contact you so that you can visit the nursery to review the plan and see the proposed plants in person.  All plans are drawn to a standard scale on letter-size paper and are easily readable.  Payment schedule: $90 deposit on the initial site visit, with the balance of the quoted design fee due after the project is installed.
If you would simply like to meet and discuss how we can be of service, there is no charge for a home visit.  If you decide to purchase design services, whether a full landscape plan or a consultation only, the $90 deposit or fee will be requested.
Check out our FACEBOOK page for photos of past landscape projects!!!
We look forward to serving you!
"My experience with Kyle was great.  He really pays attention and asks tons of questions.  He took an enormous number of pictures.  …His dimensions were on the money.  It really has turned out nicely!"  –Ron B., Milledgeville